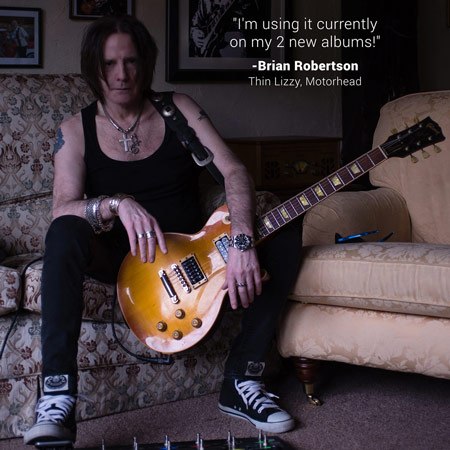 Brian Robertson
Thin Lizzy and Motorhead
Brian "Robbo" Robertson was born in Glasgow, Scotland, February 12th 1956. After years of classical training with the cello and the piano, he soon became more interested with the rock'n'roll scene and started playing the guitar as well as bass guitar, drums and keyboards with his older brother Glen in different bands in Glasgow. At the age of 17 he took his gear and went down to London to try to get a job as a drummer, but when Thin Lizzy lost Eric Bell and then stand-in guitar player Gary Moore, their roadie Big Charlie from Glasgow suggested that they give this young wiz kid from back home a chance. Phil Lynott and Brian Downey were both taken by storm by his playing and he got the job straight away.
Philip Lynott had decided that the new Thin Lizzy should change format and have two lead guitarists. The search was on for someone to compliment Robbo's playing and, after auditioning many wannabes, the band finally found Scott Gorham. The classic Lizzy line-up was formed. Robbo played on all the classic Thin Lizzy albums between 1974-78 including their breakthrough album "Jailbreak" with the classic hit single "The Boys Are Back In Town" and "Live And Dangerous" the album that many consider as the master piece of recorded live rock music.
After the "Live And Dangerous" tour in the UK, Robbo left the band to form his own band Wild Horses together with ex-Rainbow bass player Jimmy Bain. Wild Horses released two albums ("Wild Horses" & "Stand Your Ground"), but they never really had the success they were hoping for and the band broke up in '82.
During that period after Thin Lizzy and before the first Wild Horses album, Robbo did a lot of session work with people like; Eric Burdon, Graham Parker, Peter French, Steve Ellis, Pat Travers, Zaine Griff, Roy Sundholm, Tim Hinckley and he also recorded a new version of "Boys Keep Swinging" with David Bowie. Between 1980-83 Robbo was involved in a project together with Warren Cann from Ultravox and Hans Zimmer called "Helden". Due to various reasons this musical masterpiece is still unreleased to this date.
When Fast Eddie Clarke left Motorhead, both Lemmy and Philty (huge Lizzy fans) decided to get Robbo in the band and after listening to their latest album on the flight over from London, Robbo found himself in the middle of an American tour with the band. Motorhead was only to be a brief stint in Robbo's career, but he recorded the under rated "Another Perfect Day" with them in 1983.
Robbo spent the major part of the late eighties playing with his old friend Frankie Miller from Glasgow and they recorded one album "Dancing In The Rain" and toured all over the US, Europe and the UK. Robbo would probably still be working with Frankie today, but he had a stroke in '93 and is not able to sing any more. Many people, including Bob Seger, think of Frankie as the best white soul singer that ever lived. Besides working with Frankie Miller, Robbo had a on-off working relationship with Shane MacGowan from The Pogues from the late eighties until the mid nineties. Robbo, Shane and Joe Strummer from The Clash started to form a band after Shane left The Pogues which eventually became The Popes, without Strummer and with Robbo as producer and arranger. They recorded the single "Haunted" together with Sinead O'Connor as well as an interesting version of Frank Sinatra's "My Way" which was used as an ad for Nike. Some songs were recorded with actor Johnny Depp on guitar, whom Robbo also replaced in the band Rock City Angels in the early nineties. Before going separate ways, Robbo produced Shane's "Christmas Lullaby" which was released just before Christmas 1996.
Other prjects include the un-released Helden project (Hans Zimmer/Warren Cann) in the early eighties, Robbo's un-released solo version of "Still In Love With You", which actually was released under the name of Bobby Tench, in a terrible mix without Robbo's approval. A short stint with Gary Barden's Statetrooper led to a collaboration with the band's keyboard player under the monicker of Head 2 Head. The Hellfire Club and Rock City Angels were also two attempts by Robbo to form a band. It wasn't really until 1995 with the forming of The Clan that things seemed to be going in the right direction again. They recorded a five track CD and toured the UK, Ireland and Scandinavia, but it all came to an abrupt end after a successful gig in Örebro, Sweden, when a drunk fan accidently broke Robbo's left thumb! It took Robbo about six months to recover and by that time the band had broken up. Following the ending of The Clan in 1995, Robbo formed his own production company Yodel International Productions and has worked with soundscapes for British Airways VIP Lounges and recorded and toured with artists like Rob Lamothe, Bittermoon, John Norum, Meldrum, Dare, Dogface, Lotus, Five Fifteen and Ash. Watch this space for new projects from the wee man with the wicked tone.
Headrush Gear Used: