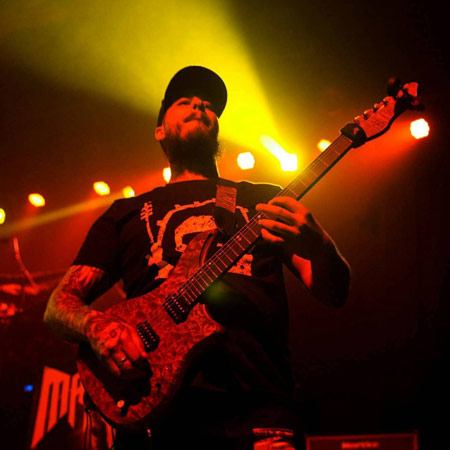 Dana Sharpton
Mammothor
"The headrush guys really hit it out the park with this one sounds great,looks great, and a very intuitive interface at a great price for all players!"
Mammothor is an American hard rock band from Boston, Massachusetts that formed in 2012. The band's current lineup consists of singer Travis Lowell, guitarists Josh Johnson and Dana Sharpton, bassist Lori Gangi, and drummer Nick Raby. Travis Lowell fronts the group with powerful and versatile vocals. Guitarist Josh Johnson is a Berklee Graduate and former student of guitar shred legend Joe Stump. Guitarist Dana Sharpton has studied with virtuoso guitarist Greg Howe. The dynamic and steady drum and bass section of Nick Raby and Lori Gangi fill out the band's eclectic sound. Mammothor strives to deliver the essence of rock: the thunderous heavy metal riffs and guitar shred of the 80's, rounded out with the passion and versatility of 90's alternative. Mammothor has shared the stage with artists: Living Colour, Ted Nugent, Sponge, Powerman 5000, Orgy, Eve 6, Prong, Fuel, Saving Abel, and Hinder.
Mammothor is a cohesive blend of heavy metal to classic rock often mixing in elements of blues and fusion. Their style, though at times can be experimental or progressive, maintains a mainstream appeal with shorter alternative rock songs and ballads. Mammothor's debut album "Tyrannicide' (2013) captured the bands blues guitar savvy with an alternative rock sensibility. With the lineup changes at singer and rhythm section Mammothor has reached for new technical and sonic boundaries. The band's follow up album "Devotion Lost" was released on April 28, 2017. Mammothor will be playing gigs in New England and on short tours throughout 2017 into 2018 in support of the album.
Headrush Gear Used:
Artist Pack Download