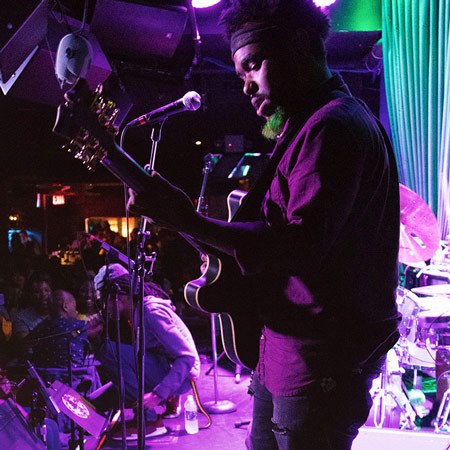 Elijah Rawk
Phony PPL
"The Headrush pedalboard is literally the only device other than your guitar that a touring instrumentalist needs."
The band we know as Phony Ppl is a mix of people, time, and sound that's been nurtured over generations in Brooklyn. They were a group of kids who started making music together during after school sessions in the homes of their creative families, and who grew up to cultivate a sound that's as much punk as is it soul. A quintet of live music blending acoustic instrumentation with electronic inputs and different vocal styles, their outlook on life and music refuses to be boxed in.
Over the years, the bandmates have ebbed and flowed, but now they've reached their final form with these five original members: Elbee Thrie on vocal duties, Aja Grant on the keys, drummer Matt Byas, guitarist Elijah Rawk, and bassist Bari Bass. Their sound is a mix of soul, R&B, funk, hip hop, jazz, pop, and everything between and beyond. It's very DIY, too. They do their own songwriting, arrangement, mixing, and production.
All of the bandmates come from musical families (Byas's dad is DJ Jazzy Jay of Zulu Nation) and they went to an assortment of music classes, camps, and schools around New York and the country. The benefits of all this shine through in their comfort with their instruments and use of music as a first language. But it only serves as a means to express their own ideas and sets the high standard they hold themselves to. "The classes we went to gave us theoretical knowledge that we took and applied how we wanted," Byas says. "But because of our families, we can't come with no B.S. We're not allowed."
They bristle at the idea of being called a soul band, or being limited to any genre at all, and thrive on challenging their listeners. "If a song is hitting in a way that might be hard to digest, I kinda prefer that over knowing how to classify it," Thrie maintains. "it means it's new if you don't know how to process it. You might need to sit with it, it's always there for you. Phony Ppl is no genre."
"There's no rules for us, we're our own bosses," adds Grant.
Like their sound, they avoid being fenced into one type of performance. You might catch them on a big stage at a festival, or at a more intimate venue like the legendary Blue Note in Manhattan. But their favorite spot is somewhere outdoors where they're on a level with the crowd. "We really like to interact with the people," says Byas, "to really look people in the god damn face and sing the lyrics and hear them sing it back—stank breath and body odor and all that—that's the energy."
While it's been a couple years since their last album, the next one is about wrapped up. But don't go into it with too many expectations, because they're bound to defy them.
How Do You HeadRush? - Featuring Elijah Rawk of Phony PPL
Headrush Gear Used: