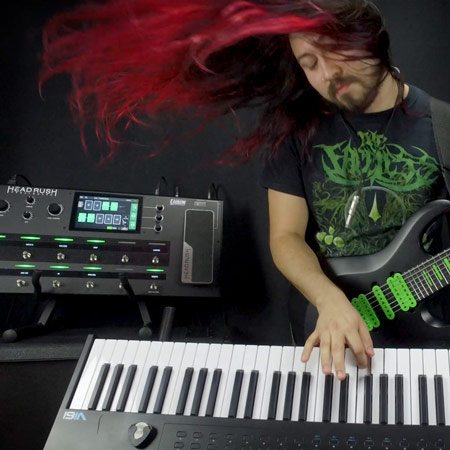 Gabriel Guardian
Immortal Guardian
"If you're a simple guy like me who doesn't want to spend hours or possibly days dialing in the perfect tone, then HeadRush is for you! Within minutes of turning it on for the first time, I dialed in my tone on the user friendly touch screen. The HeadRush pedalboard is guitarded!"
Hailing from the Lone Star State, Gabriel Guardian is a young virtuosic multi-instrumentalist most known for his unique ability to play guitar and keyboard at blistering speeds, SIMULTANEOUSLY. His talent of being one of the most ambidextrous minds in music today has gained him attention from music icons and instrument companies alike. His long list of viral videos have landed him in publications such as Guitar World, SPIN, Revolver, Metal Hammer and many more. Most of Gabriel's time is spent writing, recording, and touring with his primary project Immortal Guardian, a virtuosic face-melting metal quartet based out of Austin, Texas. He is also pursuing a solo career and collaborations with a host of talented musicians in multiple genes across the globe. His most recent collaboration featured Cirque Du Soleil founder, Guy Laliberte, who invited Guardian to join his new music project titled "CandyWorld" that was showcased in Ibiza, Montreal, and Burning Man during 2017.
Over the past year Gabriel has also began exploring the world of programming lasers. Learning the ins and outs of complex softwares, he now programs many of his own laser shows for CandyWorld, Immortal Guardian, and solo performances at private and corporate events. His most recent project has been creating a custom laser show that is controlled by his electric guitar and keyboard which allows a visual representation of his sound to fully engage the viewer. In addition to performing in countries all over the world, Guardian can be found teaching music clinics, giving private lessons, and composing music of all genres for TV, film, and video games.
How Do You HeadRush? - Featuring Gabriel Guardian
Headrush Gear Used:
Artist Pack Download