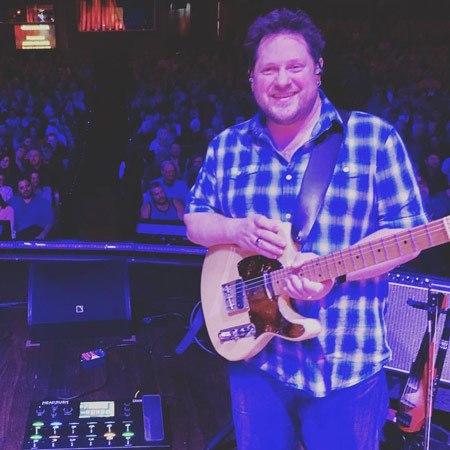 Jason Roller
Alabama, Dolly Parton, Alice Cooper, Deep Purple...
"No matter if I'm on stage, in the studio or cutting tracks in my hotel room on the road, the Headrush is always consistent in giving me all the great tones I could ever need. Getting great tone is so fast, it's so easy to use!"
I started on fiddle, when I was 4 years old. First real professional gig was playing fiddle in the number 1 rated country show called "Country Tonite" in Las Vegas at the age of 14. Around 12 yrs old is when I started getting serious with guitar, always loved it. After Vegas my folks moved to Nashville to help me get started in my music career, I was 16. I got my first professional road gig with a major label artist 3 months after moving to Nashville and played the Grand Ol Opry as well at age 16. This year will be 23 years in Nashville. Over that time, I have toured with Alabama (current) Kellie Pickler (also current, when I joined Alabama a few years ago Kellie's tv show career was taking off and her touring slowed down a lot, so they never replaced me. I get first call for those shows and they sub out what I can't do), Dave Mason (Rock and roll hall of famer, founder of Traffic and solo artist), Dolly Parton, Wynonna, Joe Diffie, Mark Chesnut, Tracy Lawrence, Darryl Worley, John Berry, Blackhawk, Gretchen Wilson. Over the 23 years as well, I have recorded on albums for Alice Cooper, Deep Purple, Jonny Lang, Rod Stewart, Casting Crowns, Wynonna, Dave Mason, Joe Diffie, William Shatner, Kristen Chenoweth, Kimberly Caldwell, Christian Kane, Sawyer Brown, Bucky Covington, Blackhawk, Rebecca St. James, along with 1000s of custom projects and songwriting/publishing demos in Nashville. I have a solo album out, released in 2016 of rock instrumental songs called "Edge of Town", and just released a Christmas Album with my wife with a combination of instrumentals and full production vocal songs called "Merry Christmas With Love" under "The Roller's". I produce custom projects, songwriter demos, guitar, mandolin, Fiddle, ganjo overdubs, and jingles at our studio outside of Nashville for clients all over the world.
How Do You HeadRush? - Featuring Jason Roller & Kimo Forrest of Alabama
Headrush Gear Used:
Artist Pack Download