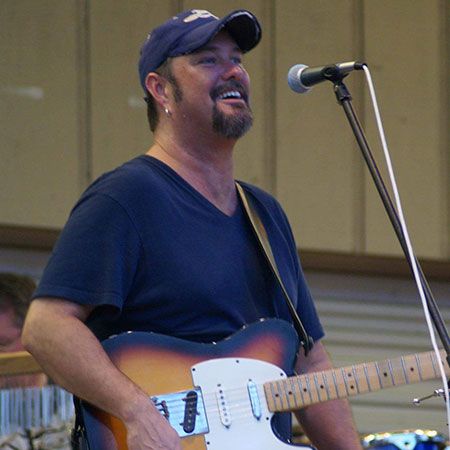 Link Detten
"I have been chasing my tone tail for years. I was in a sea of pedals to no avail. The HEADRUSH is everything I've been looking for in tone and extremely user friendly . It covers all sounds, bells and whistle's that I need for all the different Artists I play for. Thank you Brian Davitt and Kimo Forrest for turning me on to it. It rocks in a Country sort of way."
Show Producer and Nashville, TN native Link Detten has performed for multitudes of Fans all over the U.S. and Canada for close to 4 decades... He has had an amazing career touring and playing with a plethora of incredible Artists making appearances as both a Solo artist and ensemble member of orchestra size bands appearing in venues as intimate as the World Famous Grand Ole' Opry Stage and Festivals with crowds totaling thousands in attendance...
His career highlights include an over two-decade tenure with Grammy Winner Jeff Cook of the Country Supergroup Alabama, over 30 dates with Restless Heart as well as being a Member of the Global Guitar Legend James Burton's All Star Band. He has also recorded and played for multiple award winning Artists like Brian May (Queen), Joe Walsh (The Eagles), Sammy Hagar, Jason Scheff (Chicago), Larry Stewart (Restless Heart), Richie McDonald (Lonstar), Tim Rushlow (Little Texas), Randy Owen and Teddy Gentry (Alabama), John Michael Montgomery, Dobie Gray, James Burton (Elvis), JD Sumner (Elvis, Charlie Hodge (Elvis), Joe Diffie, Pam Tillis, Larry Gatlin, Paul Shaffer, Legendary Guitarists Steve Wariner, Steve Cropper, Skunk Baxter and Albert Lee, as well as Pop Icon Chris Whitehall (The Griswolds), Tanya Tucker, T. Graham Brown, John Carter Cash, and Country New-Comer Caroline Jones just to name a few.
Completely dedicated to his craft, Link Detten has made a vow to play wherever he is sent to entertain, and in his own words "he's been blessed" to have each and every opportunity that has come his way to play for everyone that has taken time to listen and be a part of each and every one of his performances.
Headrush Gear Used: