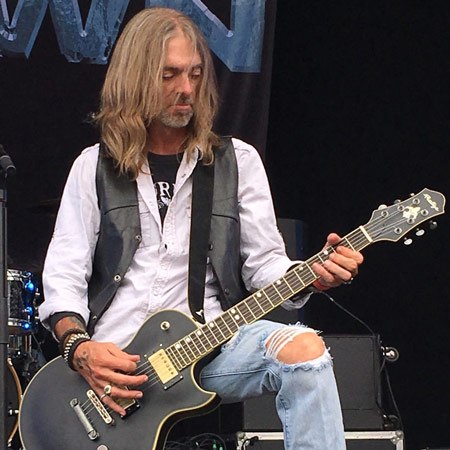 Rex Brown
"The HeadRush Pedalboard is exactly what the Dr. ordered when I'm in a Studio or Live situation!! Super fast functionality, killer tones & the user friendly vibe of any tone I can create, right on the Fly!! Smoke on that..."
Oftentimes, the best way to move forward is to take a step back. Pump the brakes, take a breath, focus and contemplate the bigger picture. Take inventory of yourself and where you came from. Tap into that raw essence to fully discover the pathway forward.
A seasoned troubadour from down South with a dense, rich, and colorful life experience, Rex Brown is far greater than the sum total of his already impressive discography as it's been laid down. Stepping out as a frontman for the first time, Rex reintroduces himself to the world on his barn- burning debut solo album, Smoke On This.
Brown wields a six-string guitar as confidently as he wore the bass in Pantera and Down. His engaging voice crackles with easygoing spirit and truth-telling power. It's a crunchy drawl that s down-to-earth, grippingly relatable, charmingly welcoming, and gritty, somewhere between the achingly resonant spiritual shamanism of Tom Waits and the instantly recognizable everyman AM radio vibes of Tom Petty and the Heartbreakers.
This is guitar-slinging old-school rock, with a nod to the seventies and a firm grasp on the future, the kind of songs evocative of a beat-up truck with the windows down and its eight-track player cranked up, or the soundtrack to a quiet night in with a can of PBR.
After a season away to gather his wits about him, rediscover his own roots, and assemble a group of players ready to help him execute his vision for the days ahead, Rex Brown reemerges with a semi truck's worth of rock'n'roll tunes as honest and sincere as they come. Smoke On This is the sound of the man's own truth, forthright and ego-free. As he likes to say, You're only as good as your word and your word better be good.
Who is Rex Brown? To the industry, fellow musicians, and a legion of fans around the world, he's the bassist for Pantera, one of the biggest hard rock and metal acts of the past few decades, alongside Nirvana and Metallica. They had Number One albums with minimal support from traditional commercial outlets and went platinum several times over. Pantera rode a groundswell of underground loyalty, earned through several years of blood, sweat, and road beers. Five major label albums, countless international tours, and a series of carnage-filled home videos cemented a legacy as large as their massive riffs and the band's insatiable appetites for mayhem, authenticity, and brotherhood.
As documented with stark honesty and emotional courage in the pages of his memoir, 101 Truth, 101 Proof: The Inside Story of Pantera, Brown and his Texas brethren forged a unique musical identity comprised of bottom-heavy rhythms, fearless guitar histrionics and blunt-force savagery, a blueprint that's been followed by nearly every single metal act that formed in their wake. Late lead guitar player Darrell Dimebag Abbott is rightly immortalized as a good-natured, guitar-shredding legend. Rex also worked alongside Pantera frontman Philip H. Anselmo in Down, issuing three full-length albums expanded and enhanced by moody grooves and stoneriffic doom, layering a hazy down-tuned smoke all over their Southern metal. In 2011, he formed the supergroup Kill Devil Hill, together with Vinny Appice, drummer for the late Ronnie James Dio and Black Sabbath.
But there's more of the story to be told. Brown's decision to throw caution to the wind and see where it carries him, with this new musical venture, creates a broad canvass for newfound self-expression. The man who joined Pantera in 1982 and helped move thousands of cassettes and LPs from the back of car trunks in the parking lots of smoky clubs, before the rest of the world discovered the Cowboys from Hell, is foremost a good ol' boy from a small town. He was deeply moved by the Beatles, Stones, and Elvis, thanks to his older sister, and happily confesses to being the biggest Zeppelin fan in the world. His connection to everything that was killer about the seventies, from Southern-fried Floridian rockers Blackfoot to English slide-guitar masters Foghat, is nothing short of personal and electric. As he'll attest: I listen to everything from Sinatra to Slayer.
Rex's solo album is full of mojo and the force of character, determination, and nerve. He tracked lead vocals, rhythm guitars, and bass, working with his primary collaborator and old friend, Lance Harvill, a Nashville-based guitarist and songwriter, on the album's songs. Lance was & is, my main man on this. Everything we did was finely tuned, both musically & brotherly.
Drums were tracked by Christopher Williams, himself no stranger to diverse tastes, from funk music to punk. His talent has been utilized by country music star Lee Greenwood, the reconstituted Blackfoot and most recently, power metal legends Accept. The album was produced by New Yorker turned Nashville transplant Caleb Sherman, a multi-instrumentalist with work on records by Little Big Town and Porter Block, among others. Caleb produced the project from a musician's standpoint, adds Brown. Not just a typical producer s standpoint, which was something I definitely needed. Between Caleb and Lance, we were a force to be reckoned with. They really pulled out the best in me. Peter Keyes, known for his work with Lynyrd Skynyrd can also be heard on a few tracks.
Brown's solo debut strips away any boundaries and preconceived notions, reveling in a newfound freedom to express all of the various shades of the man whose name is out front. The song Fault Line helped him find his voice. That was the very first one I sang. After I got that one, I knew that I could do it, and Lance was my biggest motivator in finding that voice. Up until that point I just wasn't sure.
From there, there's the brilliantly straightforward Lone Rider, the monstrous In Through the Out Door vibe of Crossing Lines, the Pink Floyd reverence of Best of Me. Get Yourself Alive is something of an ode to Strawberry Fields Forever, but with a swift-kick of rock'n'roll. It's rich in nuance, with Indian tandoori and layers of vocals. The extremely catchy Grace is something you would never expect to hear off a Rex Brown record and that's exactly why I did it. It's just a really great song, period. Bottom line.
Lyrically, the songs are both personal and universally relatable. Buried Alive is a deeply moving and confessional song about the loss of Dimebag Darrell. I drowned myself in cases of whiskey after he died. I was drowning in that black water and I had to find me, ya know? It's one of those songs that really kind of just came out. You're on your own now, Jack. What re you gonna do? The whole record is really cathartic. Conversely, What Comes Around Goes Around could be about your mailman, your neighbor, or your wife. It's saying, you made your bed, lay in it. I'm clean on my side of the street, how's your's going.
My motto these days is Shake some shit up, Brown declares. I've had my ups and downs, like anybody in this business. I wanted to feel like a true artist again, where I can write and record songs without worrying about any of the bullshit. We're not going to necessarily cater to metal fans, but the guys who grew up with Pantera, a lot of them love all the same stuff that I grew up on, too. This is just something else I'm doing for fun, man. And musical Freedom. Fun has to come into it or I'm not going to do it. I've had a tremendous career and now I feel like I'm thirty years old again. This has given me that freedom I needed.
I've got so much more in me, he enthuses. I'm just getting my feet wet.
How Do You HeadRush? - Featuring Rex Brown
Headrush Gear Used: