HeadRush Looperboard®
The world's first floorboard looper with 7" touch display and powerful quad-core processor.
HeadRush Looperboard®
Featuring a well-refined smart user interface with huge 7" display provides all of the dynamic feedback you need to stay focused on building your loops. You can touch, swipe and drag-and-drop to customize the HeadRush Looperboard to your personal workflow.
7" high-resolution multi-touch display
Over 9 hours of internal recording time with endless looping using USB Storage
Record up to 4 tracks, 2 stereo or 4 mono looper tracks
Click track and smart quantization features
Tap tempo with intelligent time-stretch
Premium built-in FX for guitars, vocals, percussion and more
(4) Mono Combo XLR + ¼" Inputs with switchable phantom power
(4) Mono Assignable XLR, ¼" outputs, and headphone outputs
MIDI In and Out for receiving MIDI clock and external MIDI control
(2) USB-A and (1) SD storage inputs for loop storage and audio import
Built-in USB audio interface
Over 300 built-in drum and percussion loops for getting started
Intuitive and Customizable Workflow
Featuring individual RGB LEDs that dynamically update to provide useful feedback, the Looperboard's 12 footswitches enable you to quickly create and transform your loops. In addition to controlling track record, overdub, and playback status, these footswitches also provide control of the length and speed of your full loop, as well as the ability to reverse, fade, transpose, bounce, undo/redo, peel, and clear individual tracks as needed. Additionally, you can reassign the function of the four start/stop footswitches to be shortcuts to your favorite features.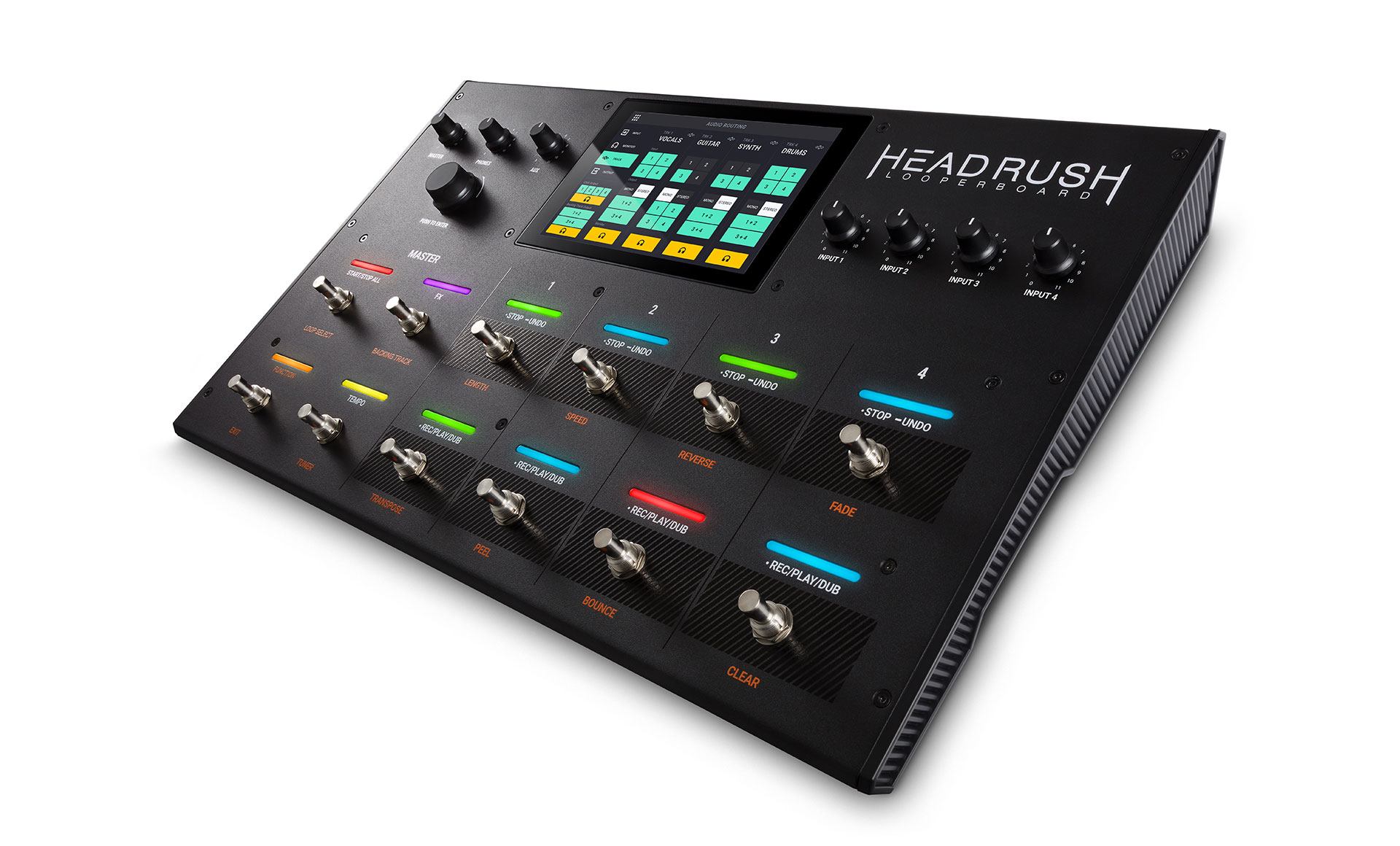 For the road and the studio
The HeadRush Looperboard is housed in a durable, road-ready steel chassis that is ready to travel to studios, rehearsal spaces, and gigs near and far. There is also a convenient cable route built into the Looperboard's bottom panel so that you can keep cables organized and out of the way.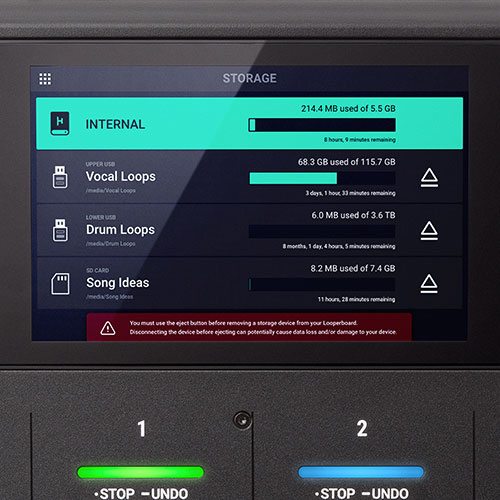 Endless Looping and Backing Tracks
The HeadRush Looperboard can record up to four stereo or mono looper tracks at once with no maximum loop length limits. You can store over eight hours of audio to its internal storage or expand to a virtually unlimited amount of storage by connecting external USB or SD drives. This combination of features enables you to loop all day and night for endless looping! In addition to importing audio directly to looper tracks, you can also use the dedicated backing track player to quickly select and play backing tracks from your internal or external storage.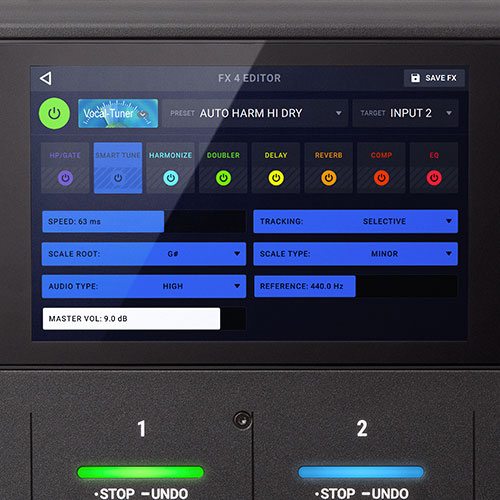 Premium FX with Auto Vocal Harmony and Tuning
Featuring a suite of premium built-in FX suitable for all instruments, the HeadRush Looperboard has all you need to make guitars and basses thump, vocals sound crisp and clear, keyboards sound tight and compressed, and much more. Lo-fi and rhythmic effects like the Slicer and Pumper will open up your creative mind. Most notably, the automatic vocal harmony and tuning FX will help you get that perfect studio vocal sound during live performances every time.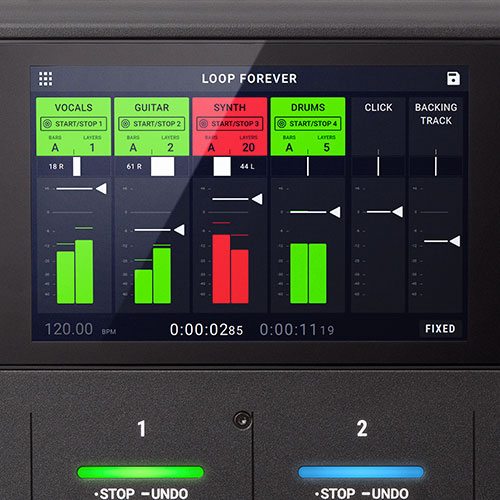 Advanced Looping Features
Get the flexibility of a DAW by mixing and panning your tracks anywhere in the stereo field. Powerful features such as tap tempo with intelligent time-stretch, automatic tempo detection of loops, and quantize keep your loops sounding pristine and perfectly in time. You also have the ability have import loops (.wav or .mp3) to a track and have them automatically match them the current loop tempo. This is truly the most powerful stand-alone looper ever made!
All the connections you need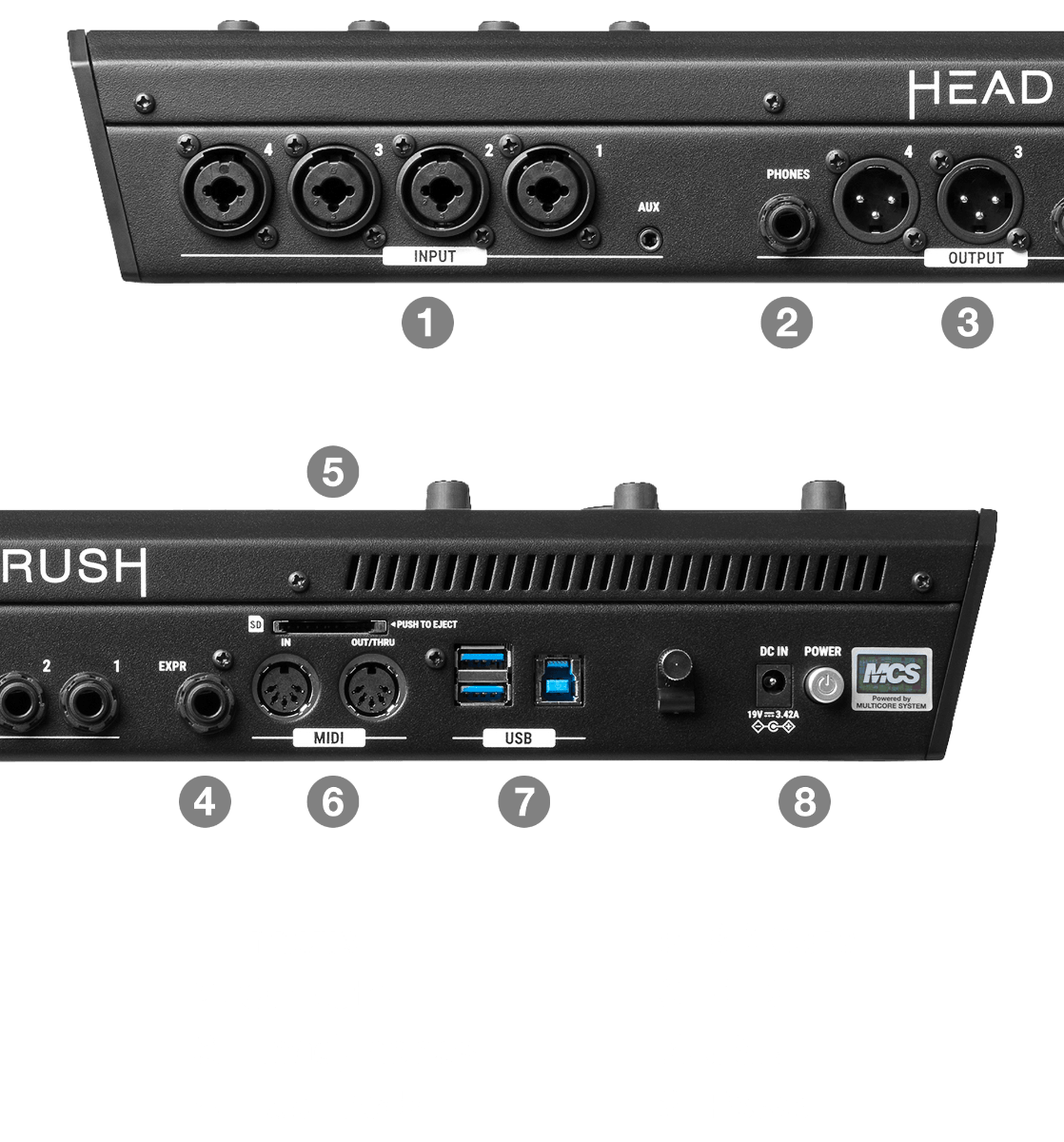 The HeadRush Looperboard complements your existing rig with all the connections you need to handle any performance situation. Featuring combo XLR and ¼-inch inputs with switchable phantom power, assignable XLR and ¼-inch, 5-Pin MIDI in/out, USB and SD storage inputs, plus a built-in USB audio interface, the HeadRush Looperboard will enhance your current setup and transform your creativity while leaving you with the flexibility to manage your sound during any performance.

4x XLR Combo inputs for guitars, basses, keyboards or even DJ equipment. +48V phantom power switchable for using condenser mics etc.
A 1/8" auxiliary jack input for connecting devices such as MP3 players or smartphones.
A 1/4" headphone jack for private rehearsal etc., 2x 1/4" TRS outs to connect to an amp, audio interface or mixer. There are also 2x balanced XLR outputs for FOH, powered speaker or mixer.
MIDI IN and OUT/THRU for time sync and external control from other MIDI devices.
2x USB type A ports allow the Looperboard to import/export loops, backing tracks or audio clips to USB flash drives. A USB type B port enables the Looperboard to act as a 2-in/2-out audio interface, transfer loops, backing tracks or audio clips to your computer, or to apply firmware updates.
On/off switch to power the Looperboard.
Class Leading Audio Routing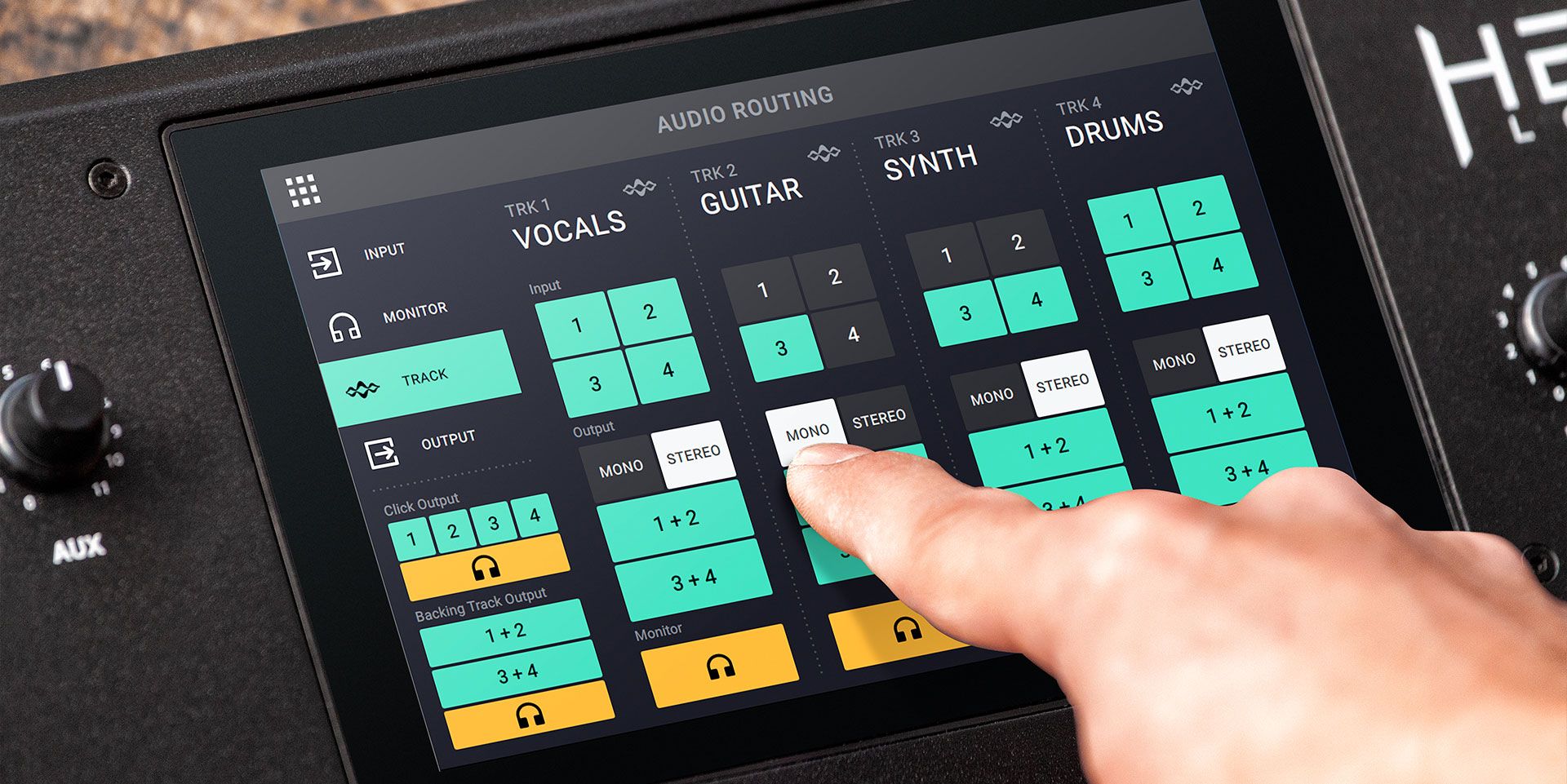 The intuitive audio routing feature enables you to quickly route any of the four inputs, four looper tracks, backing track or click track to any of the four outputs and/or headphone output, giving you the ultimate flexibility to quickly get your sound set up with any sound system.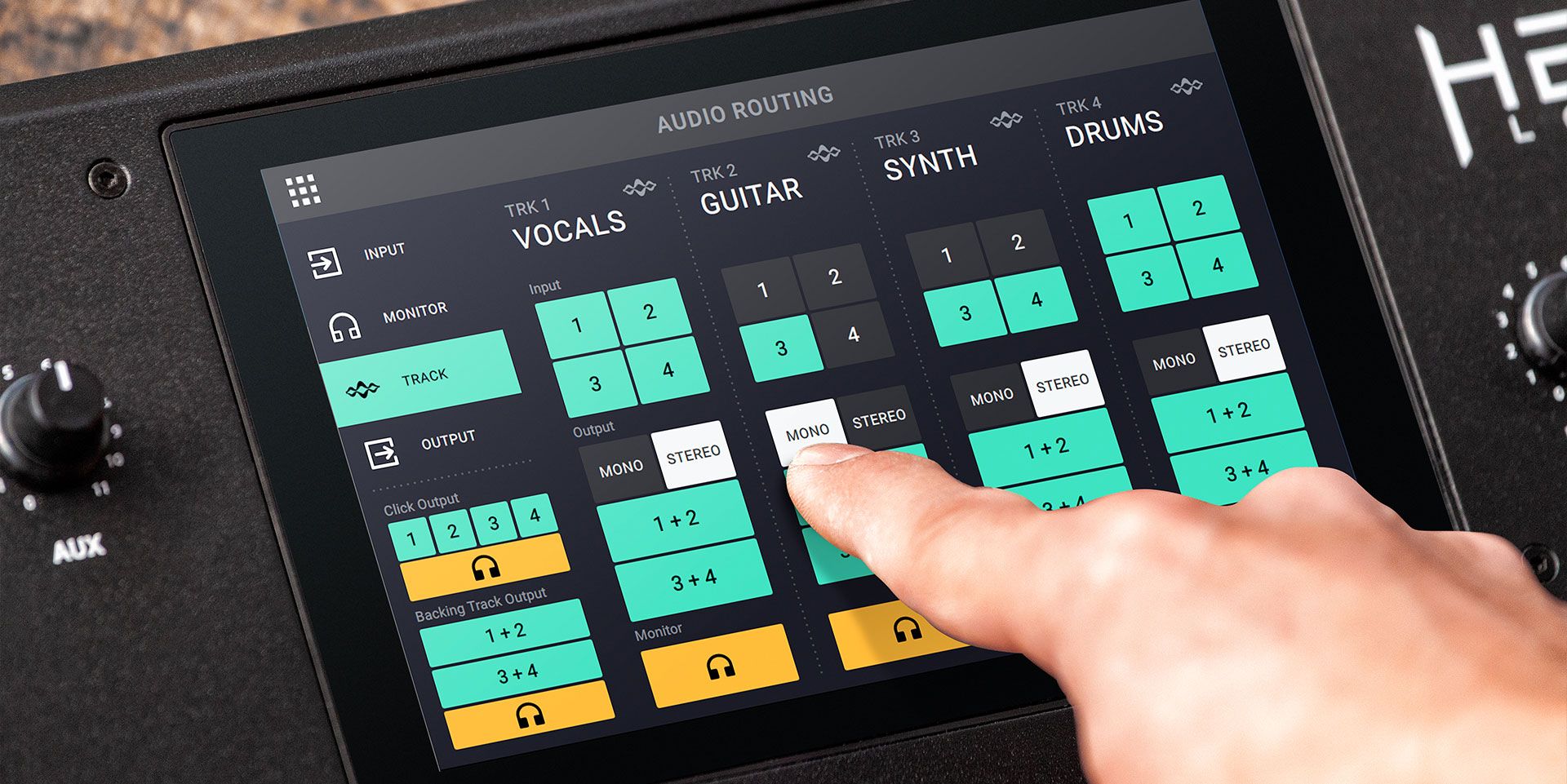 Media Gallery
The HeadRush Looperboard® is the world's first floorboard looper with 7" touch display and powerful quad-core processor.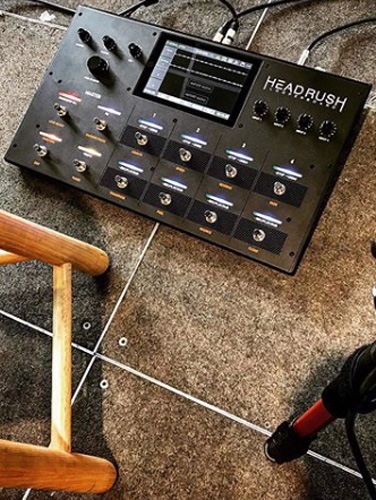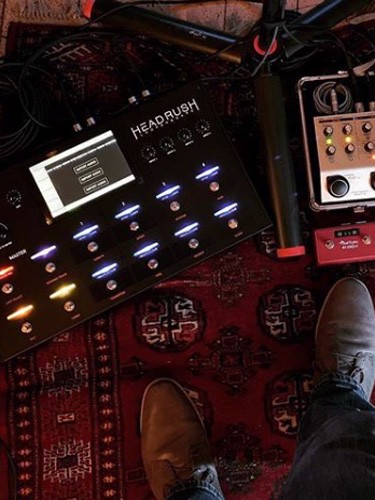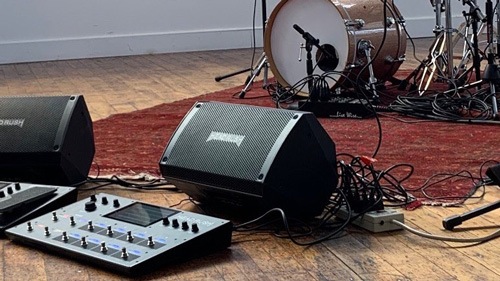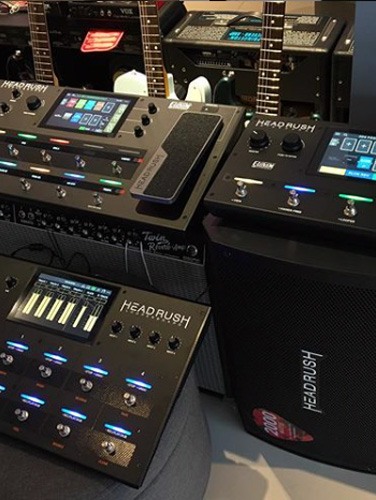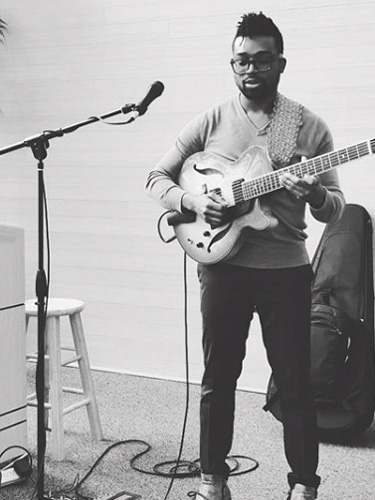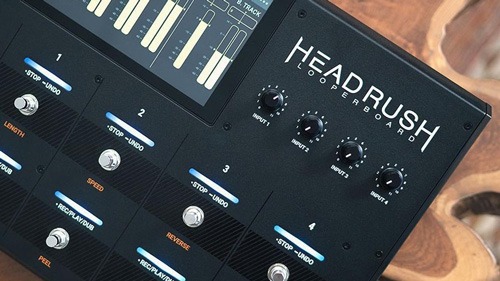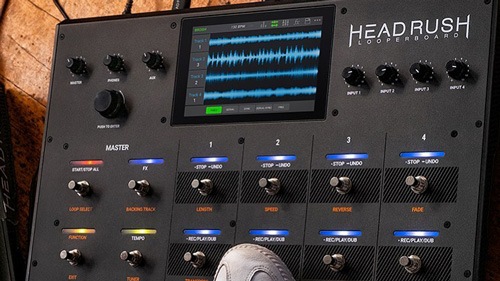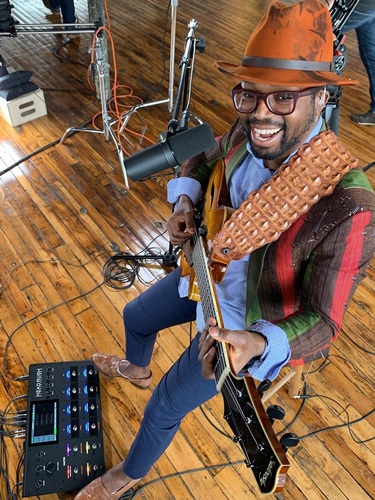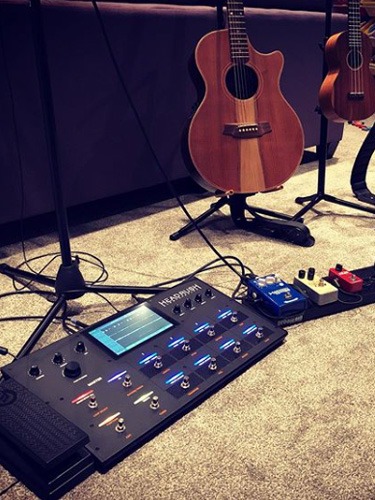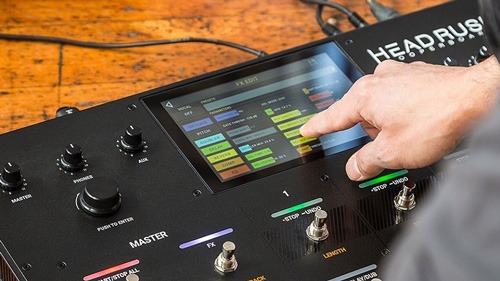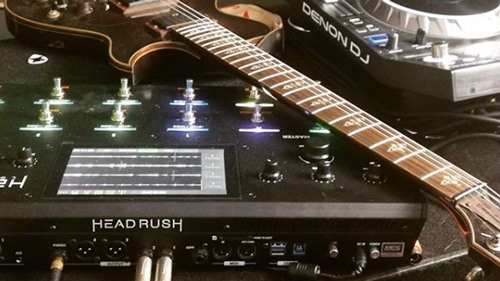 Looperboard Tutorials
The five tutorials in this playlist show you the basics of how to get around and make use of the amazing features you'll discover with the Headrush Looperboard.
In this series:
Looperboard Overview
Timeline Menu
Audio Routing Menu
Loop Settings Menu
Customize the Top 4 Footswitches
Global Settings
Backing Track Player
FX Menu
External Midi Control
Mixer Screen
Basic Looping
Introducing HeadRush Looperboard | Live Performance
A live performance recorded and filmed in one take at The Sprinkler Factory Worcester, MA.
Introducing HeadRush Looperboard | Featuring Albino Mbie (Golden Smile)
HeadRush returns to the ultra-colorful Sprinkler Factory with the amazing singer-songwriter Albino Mbie. Albino is an award winning Musician and Berklee grad from Maputo Mozambique, a country in southern Africa known for its rich musical and cultural heritage. In this video he creates his song "Golden Smile" on the HeadRush Looperboard using layered vocal harmonies, catchy and simple guitar parts and the amazing positive energy he is known for.
How Do You HeadRush?
See how Headrush products complement the touring and recording setups of various artists. Discover how these musicians achieve their signature sound and how they use features to make changes quickly and easily whilst performing.
Hear from the likes of Tracii Guns, Sam Kirsch and Rob Gueringer, plus other artists including Gabriel Guardian, Zakk Sandler, Jason Roller and Kimo Forrest
Played by remarkable
artists in the industry.